First World Nomad Games draw crowds
22 сентября 2014, 16:59
World Nomad Games in Kyrgyzstan gave thousands of visitors a taste of real nomadic spirit of competition.
Subscribe to the TengriNews news channel:

Email рассылка
Found a bug?
Select it and press Ctrl + Enter
Chasing a girl on horseback. Racing horses with a headless goat carcass. Hunting with eagles. No, these are not juicy bits of a new bestseller or an ancient legend. This is what happened as part of the first ever World Nomad Games, Tengrinews reports citing the official website the Games. 

The Games took place in Kyrgyzstan, in a picturesque area around Lake Issyk-Kul near Cholpon-Ata City between 9 and 14 September.


©Vyacheslav Oseledko/AFP/Getty Images

Sponsored by the Kyrgyz government, the World Nomad Games brought together 400 sportsmen from around 20 countries, including Kyrgyzstan itself, Kazakhstan, Turkmenistan, Turkey, Mongolia, Russia and even countries like the United States and Germany.
Around a dozen traditional nomadic sports were included into the program that was attended by 45,000 visitors, of whom around 10% were international tourists, according to KazTAG.

Immersing oneself into the centuries-old traditions was also possible thanks to a specially set up temporary camp of 150 yurts, traditional nomadic movable houses.



©Vyacheslav Oseledko/AFP/Getty Images

The World Nomad Games are designed to show the history of nomadic civilization with its unique traditions and culture. The Games are expected to give a powerful impetus to the revival of distinctive national sports and rebirth of the spiritual consciousness and historical memory particular to the nomadic peoples of the world.

Among the sports featured were Alysh and Kyrgyz Kurosh, two very old wrestling types, and Salbuurun - traditional hunting with a bow, a dog and an eagle.


©Vyacheslav Oseledko/AFP/Getty Images

Horse races were also part of the games. Naturally, a horse has a special place in nomadic culture. A proverb says that a nomad was born and died on a horse. Alaman Baiga and Er Enish were also featured events. The first one is a long distance horse race on rough terrain. The latter is traditional Kyrgyz wrestling on horseback. The rules and accessories of this game suggest the game was borne out of military needs.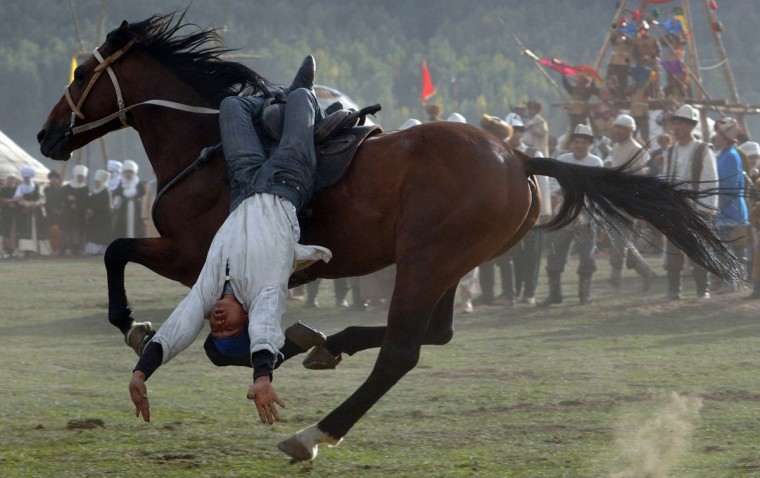 A Kyrgyz rider performs stunts during the first World Nomad Games. ©Vyacheslav Oseledko/AFP/Getty Images.
For the less physically apt two strategy games were offered: Toguz Korgool - a game of counting and strategy that has a long history and is comparable in significance to the chess, and Ordo - a game of strategy on the battlefield.

Kok boru is a very popular game, a mixture between a race and a game. A goat carcass needs to be dragged by opposing teams to designated spots in order to win.



©Vyacheslav Oseledko/AFP/Getty Images

In six days of intense competition, the team from Kyrgyzstan became the leader in the overall standings with a total of 55 medals, of which 16 were gold, 20 silver and 19 bronze. Kazakhstan's team was in the second position with 28 medals in total, of which 10 were gold, 9 silver and 9 bronze. Turkmenistan team came in third with 3 gold and 3 bronze medals.
The closing ceremony took place on September 14 and proved to be a success along with the entire Games.


©Vyacheslav Oseledko/AFP/Getty Images
This gives hope that the sports event will be held again in the upcoming years and its main mission will be fulfilled - "to strengthen the regional integration and solidarity of the Turkic countries and to give a significant impetus to the development of ideology based on the traditions of ancestors and oneness of the nomadic culture of the people of the world".

By Dinara Urazova