Kazakhstan's Akorda among world's most beautiful presidential residences
13 августа 2015, 18:14
The residence of Kazakhstan's President Akorda is the third most beautiful presidential palace in the world according to Theestle.net, Tengrinews reports.
Akorda is the official residence and the main workplace of the President of Kazakhstan in Astana.
The construction of Akorda located on the left bank of the Ishim River kicked off in 2001. Well-known architects from Europe and Kazakhstan worked on creating this unique piece of architecture in Kazakhstan's capital to making it a symbol of the dynamically developing country. Experts from as many as ten countries were involved in the project.
The official presentation of the residence covering an area of 36,720 square meters was finally held on December 24, 2004. Before that, the building of the former regional committee of the Communist Party, located in the old center of the city, served as the presidential residence. Currently, it houses the Museum of the First President of Kazakhstan.
High-level meetings, negotiations and tête-à-tête meetings of the Kazakh President with other leaders and heads of governments as well as signing of important documents always take place in Akorda.
Akorda. ©Turar Kazangapov
"The palace looks beautiful with its blue and gold dome. The color gold features prominently throughout the complex and twenty-one types of marble were used for the floor patterns," the website wrote about the residence.
The first place in the ranking went to the White House, the residence of the US Presidents since 1800.
The White House. ©REUTERS
The residence of Tajikistan's President got the second place.
Tajikistan presidential residence. Photo courtesy of azianatravel.com.
Abu Dhabi Presidential Palace is in the fourth place. According to some experts, it is the most expensive residence in the world - its construction cost $490 million.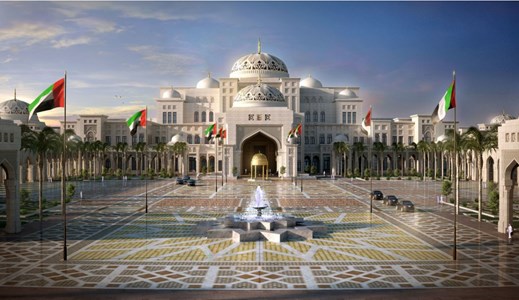 Photo courtesy of ahmc.ae.
Prague Castle, the official residence of the President of the Czech Republic, is the fifth most beautiful presidential residence and according to the Guinness Book of Records, it is the oldest one, dating back to the ninth century.
Prague Castle. Photo courtesy of iloveprg.ru.
The Russian Grand Kremlin Palace, which is 125 metres long, 47 metres high, and has a total area of about 25,000 square metres received the sixth line in the rating. Previously the tsar's Moscow residence, it is now the official residence of the Russian president.
Photo from Wikipedia.
Oguzkhan Presidential Palace of Turkmenistan's President in Ashgabat is ranked seventh.
Photo from Wikipedia.
Cameroon's Unity Palace is in the eighth place.
Photo from Wikipedia.
Presidential Office Building of China's President in Taipei, Taiwan and Ghana's Flagstaff House in Accra close the Top 10 ranking.
Photo from Wikipedia.
Photo from Wikipedia.
By Assel Satubaldina
Другие новости рубрики "Politics" :
---
---
ЧИТАЙТЕ ТАКЖЕ